SAKAMOTO AGENCY SIGNS EMERGING ARTISTS AMY HEF, AND ROBERT ADAM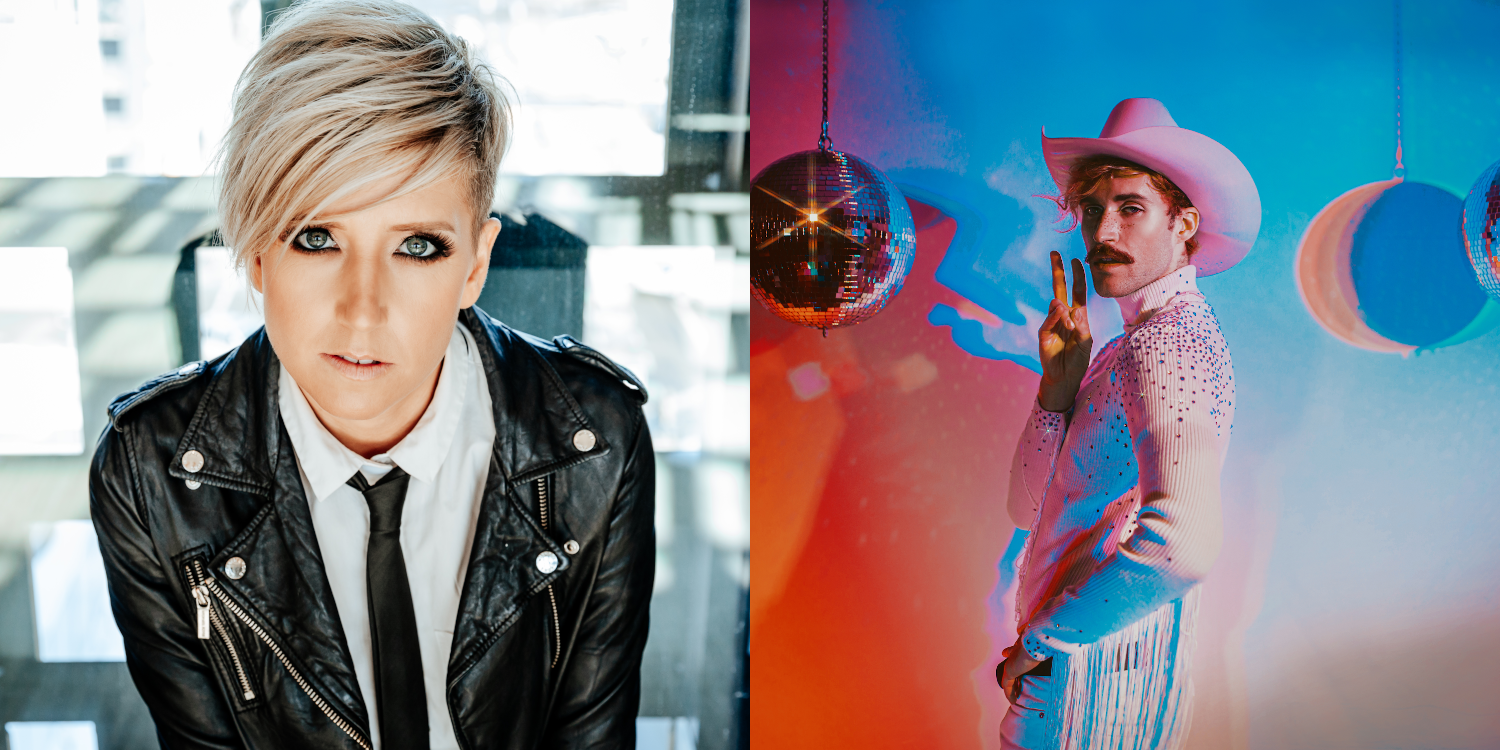 For Immediate Release, June 21, 2022: Continuing their recent growth trend, Sakamoto Agency is pleased to add two new development artists to the Canadian country roster; Albertans Amy Hef, and Robert Adam. Sakamoto's Operating Partner Paul Biro will be responsible agent for both acts, with agent Carla Hackman supplementing bookings. While Sakamoto has been booking shows for both Robert and Amy already, the signing announcement of these two talents comes during Pride month to both celebrate and encourage the diversity that is growing within country music.
Calgary's Amy Hef recently made the switch to country music after establishing her musical career as a pop artist. Finding her musical home with a mix of twang and rock, Amy's journey in life is reflected in her songwriting, as shown with her debut country single "Between Us" released worldwide in early 2022. Amy is excited to continue down this new path, saying "As a kid, I remember being in my room listening to my Sony Discman, hairbrush in hand singing in front of the mirror dreaming I one day would be on stage playing my songs. Every time I am on stage it's that dream coming true. I felt a genuine connection the first time I met Paul and admire how hard he works for his artists. I am so looking forward to being a part of the Sakamoto family, and working with such an incredible team to continue sharing my story through music."
Robert Adam was a finalist in the 2021 Project WILD program, presented by Wild 95.3, debuting his music to a wider audience and creating new diehard fans. Born and raised in small town Alberta, Robert Adam is a true rhinestone cowboy, with a smooth crooner voice and a reverence for country tradition. Both pretty and gritty, Robert is breaking the mold of the solo male country singer with elegance and grace. He says, "I am so honoured and elated that Sakamoto Agency and I are teaming up to show the world a new era in country music. This dream angel cowboy is ready to hustle, and the wonderful team at Sakamoto is already working hard to help me spread my wings. Sakamoto already feels like family, and I'm so thrilled to be a 'Sakamoto Sibling'."
Operating Partner Paul Biro is so pleased to continue to diversify the artist roster, and work on the development of these talented artists. He says. "I am so excited to work with these artists! Amy's entrance into any room or stage brings light into every setting with her infectious personality. Her eclectic style mixing pop to country and back again is not just entertaining, but contains a spirit and joyful passion for music that can't help but drag audiences in, and connect with her musical journey. We are looking forward to being part of her future plans and can't wait to see what she comes up with next, as we know it will be fantastic!"
"When you listen to Robert Adam's songs you can't help but think of Neo-traditionalists and traditionalists like Keith Whitley, Ricky Skaggs, Randy Travis or George Strait, all the way back to Hank Williams. Robert's voice is reminiscent of many traditional country artists all blended together, and coupled with his modern lyrical content, he has the power to pull at the heartstrings of country fans in a very sincere way. Whatever Robert does, he does wholeheartedly, with the right mix of art, natural talent, and true grit and drive. He is inspirational, and we're looking forward to showing audiences his craft."
To book Amy Hef, Robert Adam, or any of the artists on the Sakamoto Agency roster, contact [email protected].
Press requests may be directed to Joelle May at [email protected].
MORE ABOUT AMY HEF:
Amy Hef is a dynamic and versatile artist, playing drums in a rock band for years then pursuing a solo pop career, before finding her way back to her country roots. Debuting her new sound at Canadian Country Music Week in 2021, and settling into the realm of country music, Amy launched her debut country single "Between Us" in early 2022, garnering radio airplay and establishing herself as an up and comer in the Canadian country scene. Hef has gone on to perform at Cavendish Beach Music Festival, Edmonton Pride 2022, and more. Born in Saskatchewan and having lived the US for a time, Amy Hef now calls Calgary home, along with her wife and Pomeranian, whom she says are loved equally. Raised in a religious family, as an adult Amy had to look inward to become empowered, and is now recognized as an out-and-proud queer musician in Alberta.
As a solo artist, Hef was named the winner of the 90.3 AMP Radio's Rock Star contest in 2013, and her 2014 single "Creepin' Me Out" saw heavy rotation at pop radio in Canada. 2017 release "Drunk On Conversation" reached over a quarter million streams, and Amy's music has earned placements in famous television series Keeping Up with the Kardashians, Vanderpump Rules and other MTV programming. Amy Hef feels at home on any stage, and has performed for sold-out crowds in a wide spectrum of venues from clubs to major events and Pride festivals. Her fresh and bright perspective is captured in every song and every live show. Equal parts natural talent, compassion, and humour, she's a multifaceted artist who doesn't let one genre define her when it comes to putting on a memorable performance. There is no one out there quite like Amy Hef, and she will be the first to tell you that she is bringing the party!
MORE ABOUT ROBERT ADAM:
Raised in the small town of Bonnyville, Alberta, and now calling the even-smaller town of Crossfield, Alberta home, Robert is not your average small town guy. The most gritty, pretty cowboy you've ever seen, Adam debuted his music career by placing top 12 in Wild 95.3's prestigious Project WILD competition in 2021. In a sharp elegant stetson and illuminated in rodeo crystal, Robert Adam crafts records with a reverent respect for traditional country music, while infusing an accessible, modern tone.
Just released in 2022, "Don't Touch My Rhinestones" is Robert's second single release on the road to his long-awaited Baby Blue EP. The song highlights his sweet and salty vocals, while spreading the message of standing one's own ground and finding self-empowerment. Whether it's rhinestoning his outfit for a live performance, or working as a heavy duty mechanic, Robert Adam is anything but one dimensional. With an angelic, inviting presence, Robert Adam is breaking barriers between generations in country music, and he's just getting started.
MORE ABOUT SAKAMOTO AGENCY:
Sakamoto Agency is an award-winning booking, talent buying, and event programming agency in Canada. With over 100 years of combined music industry experience among staff including booking, talent buying, management, publicity & marketing, and project management, Sakamoto Agency is an industry leader, named CCMA Booking Agency of the Year in 2020 and 2021. Along with 25+ years of various nominations, President and Operating Partner Paul Biro has also won CCMA's Ron Sakamoto Talent Buyer or Promoter of the Year three times, from 2019 to 2021.
Sakamoto Agency expanded it's business in 2020, creating radio promotions subsidiary GPS Promotion in partnership with GrassRoots Promotion in Nashville. In 2022 Sakamoto Agency also launched Sakamoto Music, a label subsidiary distributed by Warner Music Canada. Choosing to remain steadfast and grow during a difficult time, Sakamoto Agency has come through the past two years with renewed purpose, and also received award nominations from the Canadian Live Music Industry Awards, and Western Canadian Music Awards (BreakOut West), for their 100 Homes: Concert Connections project, which provided over 300 personalized recorded concerts to care homes across Canada in 2020 and early 2021.